Silicosis
Silicosis is a pulmonary disease that is caused by exposure to minute particles of dust which can get into a persons lungs. It is typically found in certain types of workers who are exposed to "silica". Long-term exposure to free crystalline "silica", which is essentially dust, enters the lungs of a victim. The lungs will react to the silica by developing scarring around the silica which leads to a dangerous condition making it difficult for a person to breath. Many people with silicosis eventually die and are at a high risk of developing other diseases such as tuberculosis. Silicosis has been commonly referred to as miners asthma and potters rot.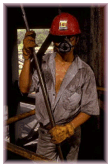 The most common form of silicosis might not be detected for 10-35 years after a workers initial exposure. Some telltale symptoms of silica exposure include shortness of breath, fatigue, chest pain, and severe cough and flu-like symptoms. Silicosis can be detected by a simple chest x-ray. By the time silicosis is diagnosed, it is often too late for the victim to fully recover.
---
Workers at Risk
It is estimated that over 3 million workers in the United States are exposed to silica dust. Silica dust can be created by any activity that breaks rocks, concrete, or any other material that contains silica. Workers who engage in the following activities are at a high risk of developing silicosis: at the greatest risk include miners, drillers, sandblasters, foundry workers (mold shake-outs or knockouts, sand screening, sand recovery, conveying, grinding, etc.), cement, stone, clay, brick and glass production are at risk. Manufacture of paints, plastics, soaps, and detergents also produce silica dust. As a result, workers in the railroad, maritime, construction, and mining industries are often at greatest risk.
Persons engaged in chipping, hammering, crushing, loading and transporting rock products
Persons involved in the sandblasting of buildings or old oilfield equipment involving concrete or other materials
Persons who extensively saw, hammer, drill, grind, chip, or work with concrete or other rock substances
Persons involved in the shipbuilding industry
Miners, both surface and underground
Railroad workers
Glass manufacturing
Welders and grinders
OSHA says silicosis is 100% preventable with properly working protective equipment. Many individuals who work in high risk areas for silicosis such as miners and sandblasters can be protected from silicosis by means of respirators, gas masks, and other equipment designed to prevent silica from entering the lungs. Unfortunately, many employers in the industry have sacrificed safety for profit and have failed to provide workers with proper respiratory equipment.
---
Legal Help
If you or someone you love suffers from any of the foregoing symptoms, and have been exposed to silica, you may have legal rights to pursue remedies for your injuries. Please contact us for a free, no obligation legal consultation.
Please e-mail Andrew E. Steinberg* at: Mr. Andrew Steinberg for a no cost, no obligation, and confidential consultation. Or call us at 713-529-0025.
*Not Certified by the Texas Board of Legal Specialization.